Washington - The National Prayer Breakfast, one of the most visible and long-standing events that brings religion and politics together in Washington, is splitting from the private religious group that had overseen it for decades, due to concerns the gathering had become too divisive.
The organizer and host for this year's breakfast, scheduled for Thursday, will be the National Prayer Breakfast Foundation, headed by former Sen. Mark Pryor, a Democrat from Arkansas.
Sen. Chris Coons, a regular participant and chairman of the Senate ethics committee, said the move was prompted in part by concerns in recent years that members of Congress did not know important details about the larger multiday gathering.
FILE -Senator Chris Coons (D-Del.) asks a question as Judge Merrick Garland testifies before a Senate Judiciary Committee hearing, Feb. 22, 2021.
Coons, a Delaware Democrat, said that in the past, he and Republican Sen. James Lankford of Oklahoma, the committee's vice chairman, had questions about who was invited and how money was being raised.
The annual event 'went on several days, had thousands of people attending, and a very large and somewhat complex organization," Coons said in an interview. "Some questions had been raised about our ability as members of Congress to say that we knew exactly how it was being organized, who was being invited, how it was being funded. Many of us who'd been in leadership roles really couldn't answer those questions."
That led to lawmakers deciding to take over organizing the prayer breakfast itself.
Pryor, president of the new foundation, said the COVID-19 shutdown gave members a chance to "reset" the breakfast and return it to its origins - a change he said had been discussed for years.
"The whole reason the House and Senate wanted to do this was to return it to its roots, when House members and Senate members can come together and pray for the president, pray for his family and administration, pray for our government, the world,' Pryor said.
Pryor said members of Congress, the president, vice president and other administration officials and their guests are invited to Thursday's prayer breakfast, which will be held at the visitors' center at the Capitol. He anticipated between 200 and 300 people would attend.
Pryor said he hoped the smaller event will regain the intimacy that is similar to the weekly nondenominational prayer gatherings on Capitol Hill. Groups of senators and representatives have long held unofficial meetings for fellowship and to temporarily set aside political differences.
The prayer breakfast addressed by the president has been the highlight of a multiday event for 70 years. Dwight D. Eisenhower was the first president to attend, in February 1953, and every president since has spoken at the gathering.
The larger event, put on by a private religious group called the International Foundation, has always been centered on "the person and principles of Jesus, with a focus on praying for leaders of our nation and from around the world," the group's spokesman, A. Larry Ross, said in an email.
More than 1,400 people are registered for the two-day event, with one-third of those from outside the United States.
Biden Calls Out 'Political Extremism' at Prayer Breakfast
President Joe Biden, who has spoken at the breakfast the past two years, is set to do so again. In 2021, he made remarks from the White House during a virtual breakfast the month after the building was attacked by supporters of former President Donald Trump intent on trying to stop the certification of the 2020 election.
At last year's address from the Capitol, Biden talked about the need for members of Congress to know one another more personally.
"It's hard to really dislike someone when you know what they're going through is the same thing you're going through," he said.
In recent years, questions about the International Foundation, its funding and attendees led some to reconsider the involvement of Congress.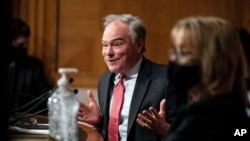 FILE - Sen. Tim Kaine, D-Va., speaks during a hearing with the Senate Health, Education, Labor, and Pensions committee on Capitol Hill in Washington, Feb. 3, 2021.
Sen. Tim Kaine, a Democrat from Virginia, stopped coming in 2016 because the event "had become an entertainment and lobbying extravaganza rather than an opportunity for spiritual reflection," a Kaine spokesperson wrote in an emailed response to questions. Kaine will attend Thursday.
The gathering came under heightened criticism in 2018 when Maria Butina, a Russian operative, pleaded guilty in 2018 to conspiring to infiltrate conservative U.S. political groups with the aim of advancing Russian interests. According to court documents, she attended two breakfasts in hopes of setting up unofficial connections between Russian and U.S. officials.
Embed share Trump Pledges Commitment to Religious Freedom at National Prayer Breakfast Embed share The code has been copied to your clipboard. width px height px
No media source currently available
It took on political undertones with Trump shattering the custom of the address being a respite from partisan bickering. He used his 2020 speech to criticize his first impeachment and attack political opponents, including Utah Republican Sen. Mitt Romney, and then-House Speaker Nancy Pelosi, a Democrat from California.
Trump, Conservatives Heap Scorn on Romney for His Impeachment Vote
Earlier this month, the Freedom From Religion Foundation sent a letter signed by 30 groups to the White House and members of Congress asking them to boycott the event because of questions about the International Foundation.
The organization's co-president, Annie Laurie Gaylor, said the foundation's basic concerns with the breakfast remain despite the split with the larger religious gathering.
"For decades, FFRF has protested the appearance of the National Prayer Breakfast being a quasi-governmental gathering, which pressures the president and Congress to put on a display of piety that sends a message that the United States is a Christian nation,' she wrote.